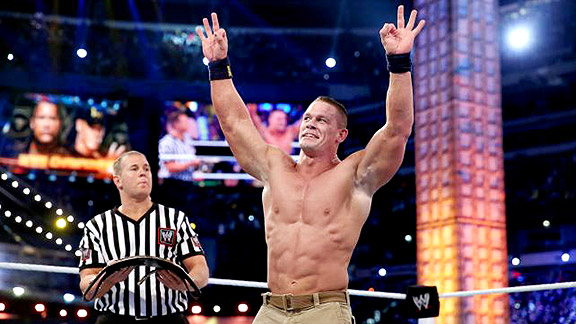 Courtesy of WWEJohn Cena pinned The Rock to take the WWE title at WrestleMania 29 in East Rutherford, N.J.
EAST RUTHERFORD, NJ -- With WrestleMania 29 in the books and the crowd done booing John Cena (for at least one night), is it already too early to look ahead and debate the possible main event of WrestleMania 30?

I think not, and with so many part-timers filling featured roles inside MetLife Stadium, I think it's in the realm of possibility that we'll soon see a Mania headlined by the returning "Stone Cold" Steve Austin going up against "The Best in the World," CM Punk.

It'd be a classic-in-the-making bout, one of the few "dream matches" still left to make (can't beat the natural heat of the beer-swilling "Rattlesnake" against the straight-edge heel with plenty of pipe bombs left in his arsenal).

I had the chance to sit down with Punk's advisor, Paul Heyman, and ask him if he thought the match might happen next year.

"I would love to see 'Stone Cold' Steve Austin come back, but that's totally in Steve's hands and up to Steve," Heyman said. "You have to look at it two different ways. One, he has nothing left to prove. Nothing. 'Stone Cold' Steve Austin was the biggest star and was the catalyst behind the biggest era in this industry's history. So, if he comes back, can it ever compare of being in the moment back then? On the other hand, look at the revenue generated today. We're talking about a weekend that is going to generate $150 million in revenue. How can 'Stone Cold' Steve Austin not be a part of that? And if he is a part of it, and for the purpose of this conversation, let's say he's a part of WrestleMania 30, is he the catalyst who pushes that figure of $150 million in revenue to $200 million in revenue? So there are two ways to look at that, and I don't know which one of those perspectives hits 'Stone Cold' Steve Austin at this moment.

"Oh, and don't think Punk and I haven't pitched this match to Austin obsessively. I have a letter from my tel-com telling me that they're going to stop giving me unlimited text messages because I bother 'Stone Cold' Steve Austin so much with these ideas, but it doesn't mean that they resonate with him just yet."

Looks like the ball is in "Stone Cold's" court.

But enough talk of WrestleMania 30. There's still so much of 29 left to digest. Let's cut straight to the good stuff.

Match of the Night: CM Punk vs. The Undertaker

I wasn't sure what to expect simply because I wasn't sure how much Taker had left in the tank. But I have to say, this match not only stole the show, it proved to be what many thought going in: the most epic battle of the night. I was sitting in the press box, near some former wrestlers such as X-Pac, and they were hanging on every move just like every fan in attendance, and I think people started to believe Punk might actually pull this one out. I loved every minute, from Undertaker's death stare into Punk's eyes, to the way Punk pulled off Taker's old-school rope walk. Classic stuff from both guys.

Stat of the Night: WrestleMania grossed $12.3 million thanks to 80,676 fans in attendance. That's a lot of Fruity Pebbles.

Disappointment of the Night: I went into WrestleMania thinking Dolph Ziggler was going to leave with both a tag team belt and the World Heavyweight championship. He left with nothing. There was a strong "We want Ziggler" chant from the crowd hoping to see Ziggy cash in the briefcase, but then the lights went out and that was on to the next match. It's funny, after the match Alberto Del Rio jumped on the second rope to celebrate and Ricardo Rodriguez was positioned behind him in a way that I thought for a second there might be a swerve where Ziggler paid off the ring announcer and he was going to setup an attack that led to Dolph cashing in his case. Obviously, this never happened, and I'm genuinely surprised by the show's overall lack of surprise.

Quote of the Night: Backstage before WrestleMania, CM Punk met with the media and was asked if he's disappointed he's not in the main event. Punk replied: "Normally I would just grin and bear it, eyes forward, head down and work harder, but I don't know how much harder I could possibly work. This business takes its toll and ages you. Obviously, I made it very well known that I would like to main event, but you have to understand, it's because I'm a businessman. The difference between where they're at [in the main event] and where I'm at is millions of dollars. If there's one person in this room who wouldn't like to get paid an extra couple million dollars for their hard work, I'd like to see you right now and punch you in the face."

And now, onto the post-WrestleMania power rankings.


WWE Power Rankings: April 8, 2013
Rank
(Prv)

Wrestler




Comment

1
(NR)

The Undertaker

Who cares if the 48-year-old legend only wrestles once a year when every match the Dead Man delivers is another classic for the ages?

2
(1)

CM Punk

CM Punk has to have the worst luck with tables. He wants them to break, they stay stiff; he wants them to hold, they collapse underneath him. The flying elbow drop onto the table hit with a sick thud. Brilliant storytelling and psychology throughout the match.

3
(10)

John Cena

The match started off slow (it was like headlock-mania), but I loved the move stealing toward the end. Cena delivered some of his best facial expressions as the crowd tried to boo him out of Jersey (even throwing his hat back during his entrance).

4
(9)

The Shield

Dean Ambrose Seth Rollins Roman Reigns

The talented trio remains undefeated after an awesome opening bout against Sheamus, Randy Orton and Big Show. Dean Ambrose is going to be WWE Champ in the near future. He screams "it" factor.

5
(7)

Triple H

Brutal no-holds-barred match featured a sledgehammer, steel chairs, and a pedigree on the stairs. Surprised the McMahon family didn't run down and get involved in this one.

6
(NR)

Alberto Del Rio

Even though the crowd was chanting louder for a Ziggler cash-in than ADR's victory, he still picked up a convincing win over Jack Swagger.

7
(NR)

Team Hell No

Daniel Bryan Kane

Loved how Daniel Bryan tried to turn the tables on his 18-second loss last year by going for the quick pin on Ziggler after the A.J. Lee kiss.

8
(6)

Brock Lesnar

Pummeled Triple H for most of the match, and even hit a sweet F-5 on Shawn Michaels despite taking the loss. Where does the big man go from here? Personally, I'd love to see him take on Sheamus.

9
(3)

The Rock

Passed the torch to Cena and showed great respect for both the new champ and the business in the post-match handshake. I just wish someone would show the man how to properly apply the sharp shooter.

10
(NR)

Dolph Ziggler

I still can't believe he didn't cash in his Money in the Bank briefcase. Maybe they're saving it for Raw. He's starting to run out of time, and I'm starting to run out of patience.